And here we are! After months of planning I can finally start to work on my open robe. I'll use the famous pattern in Janet Arnold book
"Patterns of Fashion 1"
. I read a lot of tutorials on the web before getting involved in this project because you know, curved pleats are not so common and I read some contradictory opinions about. Some costumers consider it easy, others not at all. I was a little bit scared at first but then I realized I would have sewn them by hand so with more control than using a sewing machine.
The pattern:
And the original garment in V&A museum:
Some details:
- Length from CB to floor is approx 174 cm, which works great for me
- Underbust circumference is approx 87 cm, another great measure for me
- Bodice lined in linen
Last month my group (Le vie del tempo) started a series of events set in the very late 1790s, so I had the occasion to make a
Directoire dress
. I always loved the look of open robes so I decided to make one as soon as possible to add a touch of elegance to my costume; I obviously started with a research and I found nice examples both in fashion plates and extant garments: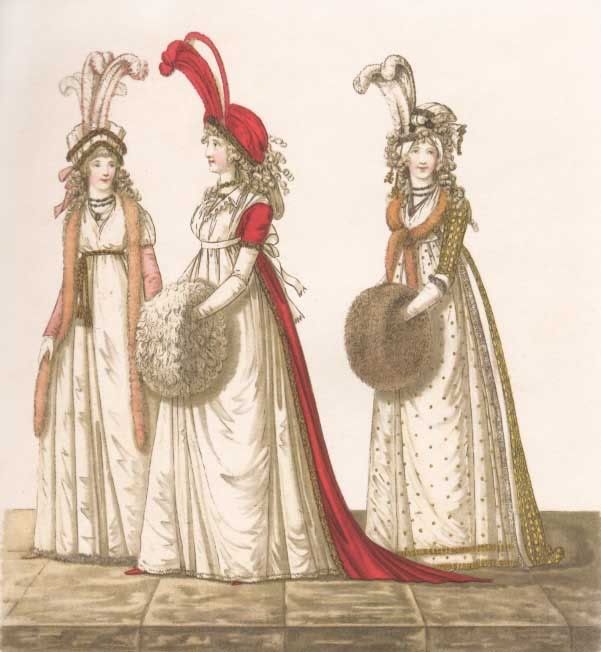 I immediately fell in love with the red one (and yes, red is my favourite colour!!) so I went to my local fabric store to purchase some beautiful bright red cotton cretonne. I will make mine sleeveless because I love how the elbow sleeves of my dress turned out.
First of all my boyfriend scanned and printed out the pattern. I traced it onto paper marking all the lines and the pleats and in less then 20 minutes I was done. I put the paper pieces onto the dress form and realized then the bust was slightly small (My back shoulder width is huge despite having a small bust) so I added an extra 5 cm to the pieces to fit. And that's all I did! Now I have to do a mock up and see how the whole thing fits on the real body.
Thanks for reading!